Nissan Certified Commercial Dealer
Fred Anderson Nissan of Asheville is a Nissan Certified Commercial Dealer, but what does that mean? Only Business Certified Dealers provide exclusive incentive packages, priority service, and are specialized in servicing and selling the full Nissan Commercial line-up.
Nissan Commercial vehicles are more than a fleet; they're an extension to your business. As capable as your operations, the Nissan NV line-up proves itself a hard-working option.
America's Best Commercial Van Warranty
With America's Best Commercial Van Warranty you get 5 years/ 100,000 miles, Bumper-to-Bumper Limited Warranty on the entire NV model Lineup. As a Nissan Business Certified dealer we know that without your van you are off the road and off the job. To get you back on the job as quickly as possible we guarantee next in line service. Roadside assistance 3 Years/ 36,000 miles is also included. Our Nissan Vans are tested to the limit through 7,000 quality and durability tests and 800,000 miles of reliability tests. If you are interested in finding out more America's Best Commercial Van Warranty please fill out this lead form.
Nissan NV Models
Nissan's NV® line offers cargo vans for all types of businesses. From the small NV200® Compact Cargo van, with an estimated 25MPG fuel economy and a powerful and capable engine; to the NV® Passenger Van, with versatile seating customizations and different engine options.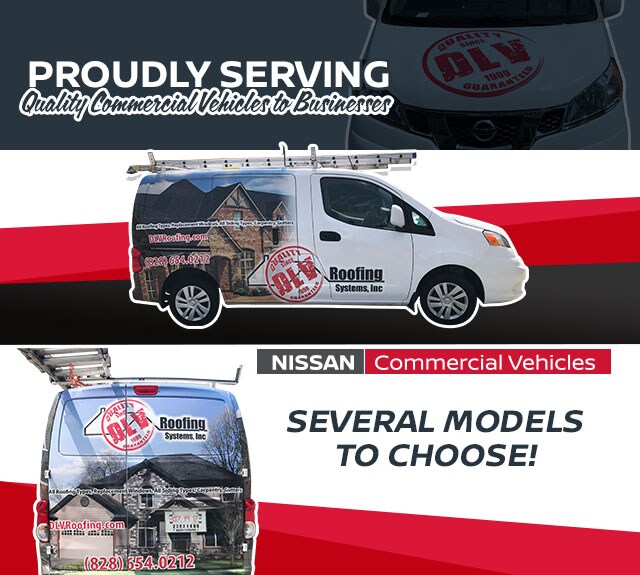 Make an Inquiry
* Indicates a required field

NV Cargo
The NV cargo has a standard roof that offers up to 234 cubic feet of cargo space. With the High Roof option, Nissan drivers can obtain 323 cubic feet of storage space. The bed fits two 40" x 48" pallets, 10 foot piping, and 4' x 8' drywall sheets. The interior offers 57 mounting points and 120V power outlets with up to 400W of electricity. The NV cargo van offers Nissan drivers their choice of engines with the: V6 - 261 HP,  281 LB - FT. engine, with a 7,000 LB max towing capacity; or the V8 - 317 HP, 385 LB - FT. engine, with a 9,500 LB max towing capacity.
NV Passenger
The NV Passenger offers Nissan drivers a class-leading 324 seating configurations and room for up to 12 passengers! Some available features include: slide-out cup holders, reading lights, and power outlets. Each row of seats offers passenger 2 floor and 2 overhead a/c vents and heating units. The NV Passenger comes with 8 standard airbags. Nissan drivers have their choice of engines, between:  the V6 - 261 HP,  281 LB - FT. engine, with a 6,200 LB max towing capacity; and the V8 - 317 HP, 385 LB - FT. engine, with a 8,700 max towing capacity.
NV200 Compact Cargo
The NV200 Compact Cargo offers Nissan drivers 12 cubic feet of space, including flat wheel wells and a low load floor height. The interior has several useful features, including 6 available floor-mounted D-rings and 20 integrated cargo mounting points. This vehicle offers a 36.7 ft turning diameter. Some available technological assets include: hands-free mode, voice commands, Nissan suite of apps, and a fold down front passenger seat that can function as a desk. The Nissan NV200 offers 25 mpg combined fuel economy with its 2.0L, 139 LB. - FT., 4,800 RPM, 131 HP engine.
NV200 Taxi
The eye-catching NV200 Taxi has everything a city loving, customer pleasing cabbie could want. The NV200 offers Nissan drives convenient features like built-in navigation, Bluetooth capability, and a six-way adjustable seat. Passengers can relax in this spacious cab. The NV200 offers comfortable seating for 4 passengers with rear and front curtains. The NV200 Taxi has 138 cubic square feet of interior space. This model is completed with a 4 cylinder 2.0L engine, and 24 mpg combined fuel economy.